At first I hated this thing. $30 and it was sorta just a nearly useless toy that my dogs could either figure out in about 4 seconds or didn't even want to get the food out. I have been playing around with configurations and hit on a couple of good ones. I now LOVE this thing. If you feed a prepared raw diet this will be a good fun way to feed. If you just want to make a brain treat then this will hold plenty of goodies and can be a challenge depending on how you put it together or lube up the slip joints.
You need at least 1 Goughnuts Cannoli and at least one medium sized Black Kong and food or treats. (You should double check on the exact size to be sure the little end of the Kong fits inside the openings of the Cannoli. I'm not positive if it is medium as we have a crap load of Kongs and I am always confused as to whether they are M, L, Xl XXL.)
That is all you really need to make the Cannoli into a longer lasting fun toy. You can, of course, use the Goughnuts Stick as is recommended by Goughnuts, but I have found that to be purely optional. The stick is very easy to remove from the Cannoli so I prefer the kongs as they get wedged in tightly and are harder to get out. If your dog is lower drive or without some jaw and neck strength then the stick may be a better choice.
I took some pix of the assembly using just some peanut butter for the sake of brevity. I would normally use a variety of treats or meats and use peanut butter or cheese to plug the holes and mix in with the treats. Another option is of course the stuff and freeze for optimum enjoyment:
Goughnuts Stick
Medium Sized Black Kong
Goughnuts Cannoli
GNuts Cannoli Side View
Peanut Butter on a knife to smear inside the Kong and Cannoli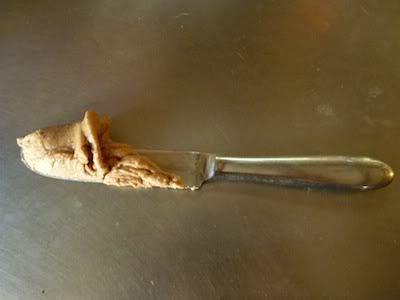 Assembled Goughnuts/Kong (Club Sammich) 2 compartments
Again with a Sneaky Creature
Other option. Goughnuts/Kong (Triple Time) 3 compartments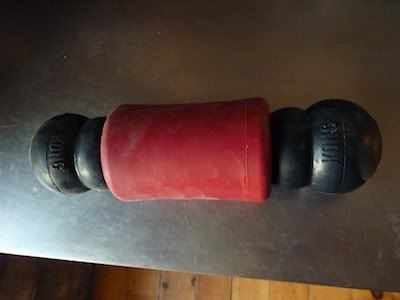 You can see in the Triple Time how the Kongs are wedged into the Cannoli pretty good. Some dogs can't get those out, some can.