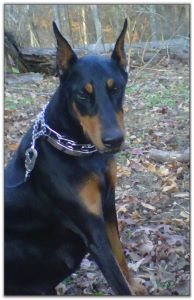 The adult dog with cut ears totally looks ready to attack >.>
And if you ask me, the owner in this pic looks more ready to attack than the dog
Assuming, period, only gets people in trouble and merely causes more havoc.
Like many have said, just because YOU cant read the dogs body language with cut ears, does not mean every owner cant either. I dont know one person who owns a dog with cropped ears that has any trouble what so ever reading them.
And dogs dont always give "true statements" with their ears.
Lou's ears stand up. When she is protective over something, example her favorite toy, her ears can either be layed (not pinned) back, or straight up. People may see her and think she is in a playful mood because her tail is slowly wagging, but, if you notice her placement with the toy directly under her chest between both front paws, her back stiff, not relaxed, and her eyes get more narrow. You would then see she is being protective, not necessarily aggressive, but she is daring anyone to touch her stuffed cow.